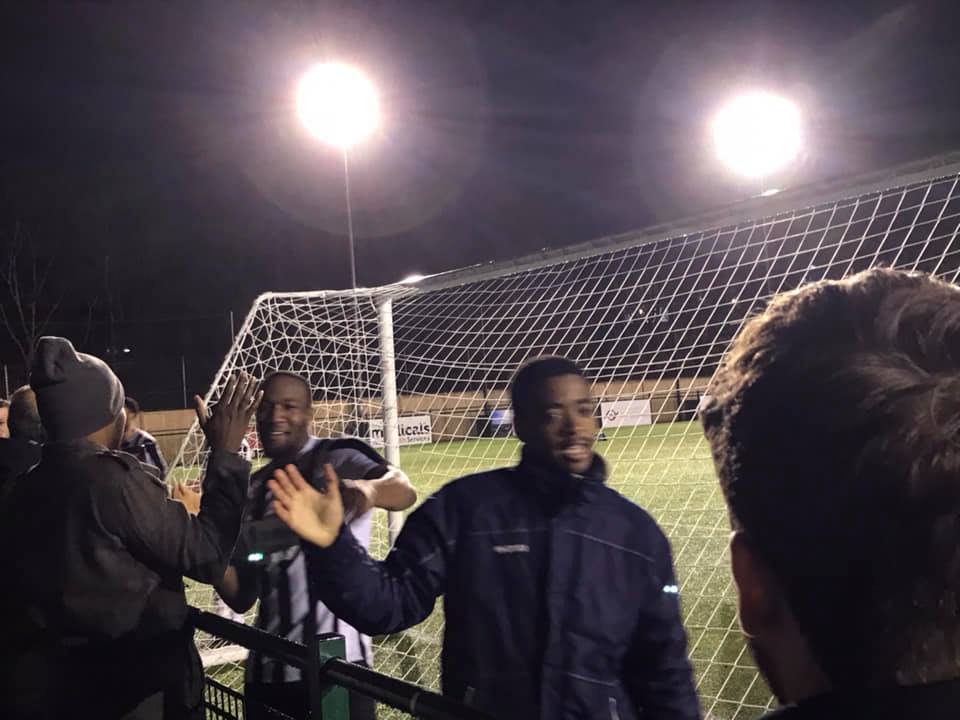 Guest match report from the excellent Non-League Chronicles [like their facebook page here: https://www.facebook.com/thenonleaguechronicles/]
Goal highlights: https://www.youtube.com/watch?time_continue=9&v=SFaLrdGZPmg
Fisher 2-1 Chatham Town
143 passed through the turnstiles yesterday as the first fisher legends day took place.
This was to be a stern test for Fisher as Chatham knew that a win here and with there games in hand they could have gone top.
Chatham are a strong physical side and have some more than useful players at this level. Most notably Matt Bodkin who has played in the football league with Gillingham.
Also among there ranks are wide man Jon Pilbeam who is also a very good player. His battle with Richie Hamill was a good one to watch.
Fisher themselves have been on an outstanding recent run and today was a real test of there credentials.
Not much happened in the early exchanges as both sides tried to get a foothold on the game. More than a few tasty challenges were going in from both sides who knew the importance of the game.
On the half hour came the real turning point of the game. Pat Geddis received a straight red for a late challenge.
From over 60 yards away it looked like Geddis was a fraction late. As the ref was swamped by every Chatham player on the pitch including the keeper!
The ref sent Geddis off as the handbags were waved by both sets of players.
Things were looking ominous for Fisher but they regrouped, reorganised and slowly but surely fought there way into the game.
The back four on the day were superb. No Everyman in a black and white shirt were superb.
Wanogho and Fleming were winning headers, making tackles and geeing everyone up around them.
In the 42nd minute Chandler Kasai beat the left back as he drove into the box. Kasai was hacked down and the ref had no choice but to point to the spot.
Up stepped Richie Hamill but his penalty was superbly saved by chats keeper Dan Ellis.
Ellis can consider himself unlucky as his save went straight to Rob Brown who's shot went in off the underside of the bar to give fisher a 1-0 half time lead.
With a one goal advantage to defend fisher set about being organised and full of running in the second half.
49 minutes on the clock and fishers first attack of the second half saw Rob Brown score from outside the box as Dan Ellis looked unsighted as the Fisher fans went in to dreamland behind the goal!!! 2-0
Chatham had possession for long periods but could not force there way through a well marshalled back four. Jamie Brown has impressed me over recent weeks playing at right back and he was excellent yesterday.
The fisher choir were in full flow trying to encourage the team.
When the fisher were finally breached it was a finish from Avery who smashed his shot high into Dan Wheelers net. A great finish from the centre half. 2-1
It was now backs to the wall with 8 minutes to go and an additional 4 minutes added time.
As Sir Alex Ferguson used to say it was squeaky bum time!
But fisher even had time to knock the ball around well in a lovely pattern of play that resulted in a late corner.
Sub Ramsamy who replaced Trey Small was himself taken off. Let's hope he's not picked up an injury.
As the final whistle was blown it was another win for fisher who remain top of the table.
As the players celebrated with the fans Pat Geddis will be the most relived man. He will have to dig deep and buy his team mates a well earned drink.
Final score Fisher 2-1 Chatham town
Fisher 2-1 Chatham Town
Saturday 8 December 2018
SCEFL Premier Division
Fisher:
Rob Brown 42, 49
Chatham Town:
Richard Avery 82
Attn: 143
Keep up-to-date with all Fisher FC activities:..............................
SUPPORT YOUR LOCAL FAN-OWNED FOOTBALL CLUB