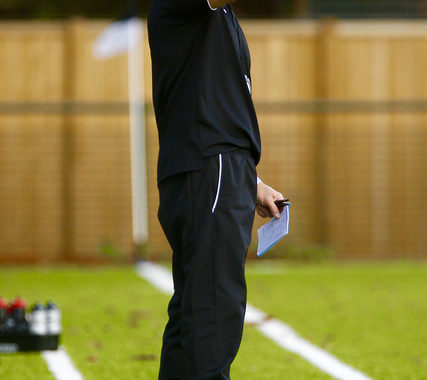 I want to apologise to the fans for second half – Abbo. Crowborough 6 – 1 Fisher
Going into Saturday's trip to in form Crowborough Gary Abbott knew that it was always going to be a challenge for his young Fisher side, with the boss moving to make changes at the back to try and add some experience. For 45 minutes this planned looked sound; after 5 minutes the Fish took the lead through top scorer Trey Williams, with other chances missed that could have put them in full control.
"I knew I had to change the team again, and it is no secret where on the field we need to improve. For the past few games we have played with 17/18 year olds as the 2 centre halves, so today I went with the only experience I really had in those position, putting Scott Wason and Alhajie Jabbie together for the first time. Scott has got himself booked in first 5 minutes through lack of pace and getting himself up-to-speed as a defender, but after that we dominated the first half again, something we seem to do in every game but still come out losing the game. We went ahead with a very well worked goal, 4 or 5 bits of lovely 1 and 2 touch passing and another good finish from Trey. Ten minutes later Alfie Roche had a great chance to put a ball through for Trey to go 1-on-1 with their centre half and every Fisher fan would put money on Trey scoring to make it 2-0. Not long after that Trey goes through again and a with a great shot forces a good stop from their goalkeeper; Roche also had a chance which went just over the bar. Before the break they had a couple of half chances, one which Ricky makes a good save with, then our back four hold a good line edge of box but their player chested the ball ball down with a good finish but looked 5 yards offside, and that's 1-1 at half time."
With the new look back line starting to show some confidence and understanding it was evidently a huge blow to see Jabbie withdrawn at the break. "Second half we were forced into a change, Jabbie had to come off and straight away we lose experience at the back with someone that talks. We started ok then gave a soft goal away; I saw a foul in the build up but it's been given the other way, the ref hasn't given us a decision there, and the goal came from that. After that for the next 15 mins we just kept giving the ball away in bad areas, then we get punished. We do exactly the same and lose another goal, then a penalty, and it just goes from bad to worse."
It showed how much we missed Jabbie out there, but we must all dig in and win the next two home cup games and get the confidence back up. We are great going forward, but I've tried every player I've got at the back and other that the first half today it still wasn't enough, we still crumbled after the third goal. I know we've got great players going forward and I feel sorry for them, we will always score goals, and play attacking, exciting football and that won't change. I know I will get the right centre halves in, but the players need to give me their all as well – there are too many not turning up for training and even matchdays. We played a team with a big weekly playing budget today, and there is no way you would think that in the first half, so we defiantly know we can match any team in this league even without a budget. I don't make excuses, and I need to whole team to live up to that too."
"We stopped working hard in second 45 and if you do that you will not get anything out of the game. I've got to say I was embarrassed by the second half display. I want to apologise to the supporters that travelled today for our second half display, it wasn't anywhere close to what they deserve. I will still give 100%  to sorting this out as always to turn this round, I don't like making excuses but some players have to look at themselves and take responsibility and give their all for this great club."
With the score 6-1 at full time the Fish slumped to the bottom of the SCEFL Premier Division table, and will be thankful to have a couple of games away from the League to reflect on the issues and hopefully build some confidence up. A run of two cup matches starts with the visit of SCEFL Division One side Snodland Town in the Macron SCEFL Challenge Cup on Tuesday evening, before fellow Division One side Lydd Town travel to St Paul's in the Kent Reliance Senior Trophy on Saturday.
Crowborough 6 – 1 Fisher
Crowborough goals – Jack Turner '32, Jack Walder '54, Wayne Clarke '62, Sam Carrington '67, Zac Attwood 87′ & 87′
Fisher goal – Trey Williams '4
Fisher Starting XI – R. Wadman, Izukanne, Graham, Jabbie, Wason, Miller (c), Mensah, Forte, McLeod-Bentley, Williams, Roche
Fisher Subs – J. Wadman, Adesina (on for Roche), Eweka (on for Jabbie), Thompson
Attendance – 110